Algomania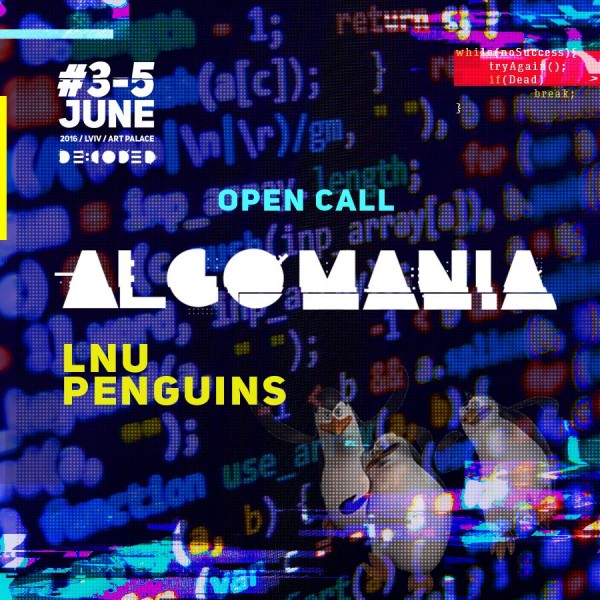 Name: Algomania
Type: Team competitions (Olympiad)
Directions: developer
Participation: only for participants, teams can take part in the competition only by the pre-registration and confirmation.
Technical requirements: the team has to provide themselves with one computer (only one). OC – ​​does not matter. Languages ​​C ++, Java, Pascal, C #.
Date: 05.06.2016 10: 00-14: 00.
Moderator: Vasyl Beletsky
Algomania is a team competition with algorithmic programming (ACM ICPC), which is organized by the coolest, without any exaggerations, LNU Penguins team, led by Vasil Beletsky, at the DE:CODED festival.
Objective: problem solving with the help of the code, demonstration by the participants of teamwork and stress resistance skills.
Rules: a team of 3 people during 4 hours has to solve seven problems by using the programming language C ++, Java, Pascal, C #. The team should provide themselves with one computer. (Each team is working on one computer)
– OS is not important (code is being compiled on the server)
List of the compilers:
– C ++: MinGW g ++ 4.8
– Pascal: Free pascal 3.0.0
– Java: oracle javac 1.8
– C #: MS csc 4.6
Solving the problems, the teams send finished response to check. If the answer is correct – the teams are awarded with points. Otherwise, the code is returned for revision and the penalty points are accrued.
The team, which solves the greatest number of problems, and which receives the smallest number of penalty points, wins the competition.
Registration for teams: http://bit.ly/1MVbPDv
40 teams, 100+ participants
Lviv, Lutsk, Kharkiv, Novyi Rozdil, Odessa, Vinnytsia, Donetsk.
Representatives of Interlogic and Eleks

1st place – SiPlus + (Novyi Rozdil)
2nd place – Team Name (Luhansk)
3rd place – Pandas (Lviv)